Validity:
From 1. 3. 2022 to 30. 11. 2022
Interest groups:
active, groups
Discover Botanical Garden of University of Maribor and Meranovo Estate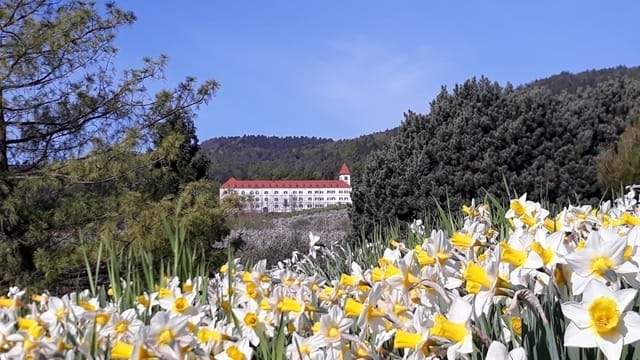 Departure is scheduled early in the morning after breakfast from the hotel or by meeting the guide at the agreed meeting point. We will start the day by visiting the Botanical Garden of the University of Maribor. Among the numerous plants housed are paleoplants, trees, orchard trees, free growing plant species and others. You will be introduced to the genetic plant bank, established at the Botanical Garden - University of Maribor due to an awareness that the local biotic natural diversity is shrinking. In addition to that, in the genetic plant bank they collect and keep our autochthonous variety, including some fruit trees (a number of apple trees, plums, peaches and pears) as well as old and rare crops. You will hear about these as well. After the visit to the beautiful botanical garden, we will head out to explore the Meranovo Estate in the Vrhov Dol.
Before viewing the estate and wine tasting, we will enjoy lunch. Meranovo is a former estate of the never-to-be Habsburg heir to the archduke Johann. He bought the Meranovo Estate in 1822 for its pleasant climate conditions for vines. In 1823 they started planting new varieties of vines; his new vineyard was different from others back then, i.e. the vines were never before planted in rows and separated by variety. The first picking in 1826 showed incredible success and was personally attended by archduke Johann who then, later on, stayed frequently at the estate. The vineyards became very prominent and renowned and, in 1832, they established the first vineyard school in the Štajerska region, which became the original centre of modern wine making in the Slovenian areas known today, as well as the Austrian part of the Štajerska region.
After visiting their museum, we will visit the wine cellar, and taste some top wines harvested by the industrious hands of professors and students of the Faculty of Agriculture and Life Sciences at the University of Maribor. In the late afternoon, we will say goodbye, full of nice impressions, then return to the starting point.
Price includes: Companion, Botanical Garden - University of Maribor guided tour, Meranovo Estate guided tour, lunch, wine tasting, transportation (van for up to 8 persons) and programme organisation.
The programme is suitable for smaller and larger groups.
Organisers reserve the right to make any programme changes!