Taste the delicacies of the Štajerska region at home
Remember the delicacies of Maribor, Pohorje and the surroundings when you return home! Try and create dishes that which have been used by the people of the Štajerska region for generations to keep away the hunger and that taste delicious.
Pumpkin seed oil
Pumpkin seed oil is most often used as a salad dressing, also for marinating, sauces, toppings for pasta, risotto, cold meat dishes, soups, desserts and spreads. One of the real gourmet delicacies is vanilla ice cream, topped with pumpkin seed oil.
Honey
Honey should never be used to sweeten a beverage with a temperature over 40 °C. It can be used with different drinks and dishes. It is used mostly for aroma in various cooked or baked dishes (sauces, vegetables, meat). The dark honeys (chestnut, forest, spruce, fir) should be used in gingerbread biscuits and stronger dishes, while the light honeys (flower, acacia) is used in lighter pastry dishes, with almonds, hazelnuts, marzipan, strudels and fruit salads. It contains more bioactive ingredients than white sugar, and it is also sweeter due to its high content of fructose. If you use white sugar in baking, use a smaller amount of honey or use a fifth of the added honey's weight in your recipe.
Blueberry liqueur
Tasty blueberry liqueur is served as an aperitif before a meal.
Pohorska omleta
Do you know the story of the pohorska omleta? In the middle of the previous century at the Poštarski dom at Pohorje one of the most famous desserts in the region was created. Despite its simple preparation process, the pohorska omleta surprises with its excellent harmony of flavours. The sweetness of the dough is met with the lovely sourness of the cranberries and the rich milky aroma of the cream. The menthol liqueur reminds of the vast spruce forests of Pohorje with its colour and aroma. This is a dessert the guest must wait for, since it should always be served fresh and warm.

Ingredients for 4 people:
- 4 eggs
- 4 tbsp of sugar
- 1 packet of vanilla sugar
- a pinch of salt
- 4 tbsp of flour
- 1 bottle cap of rum
- 200 g cranberry jam
- 300 ml whipped cream
- 2 tbsp peppermint liqueur

For the batter, separate the egg whites and yolks. Whip the egg whites with salt and sugar until stiff. Add the yolks and rum and gently beat in 4 tablespoons of flour. Pour the prepared batter into a baking pan you have lined with baking paper. Bake the omelette for 8–10 minutes at 180 °C. While it's baking, heat up the cranberry jam. Place the baked omelette onto an oval plate and spread it with the jam, fold it in half and garnish it with whipped cream and a sprinkle of peppermint liqueur.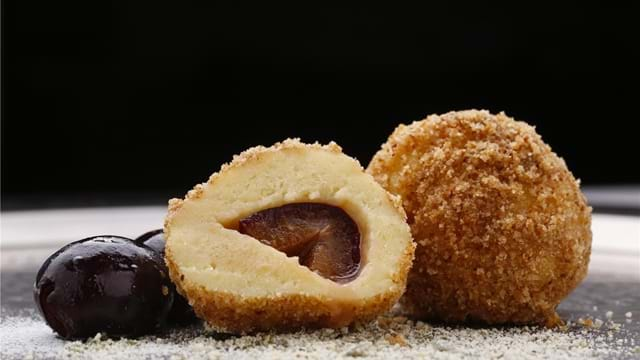 Plum dumplings (cmoki)
Preparing the dumplings from seasonal fruits is popular in the entire area. The filling is mostly made from apricots, grape (jurka) or strawberries. Yet the plum dumplings hold a special status. The dough is most often made from cottage cheese or potatoes and the dressing is made from breadcrumbs fried in butter.

Ingredients for 4 people:

Potato dough
- 500 g of potatoes
- 200 g sharp flour
- 1 egg
- 20 g semolina
- 25 g butter
- salt

Filling
- 20 plums
- 10 sugar cubes

Dressing
- 40 g butter
- 40 g bread crumbs
- 40 g sugar
- pinch of salt
- pinch of cinnamon

Cook the potatoes, then peel them and mash. When still lukewarm, add an egg and flour, semolina and salt. Quickly knead the dough. Roll dough out to 1 cm thick and cut in 5 x 5 cm squares. Wrap a plum, filled with half a cube of sugar, in each square. Form the dough into a dumpling. Cook the dumplings in salted boiling water. Drain and dress with fried breadcrumbs and cover in sugar and cinnamon mixture. The dressed dumplings can be placed in a hot oven for a few minutes.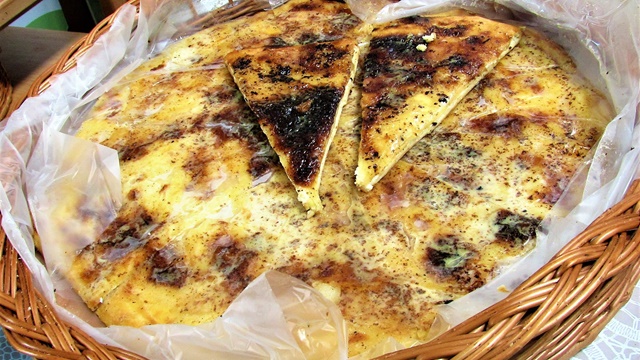 Slovenj Gradec gibanica
Ingredients:

Dough
- 500 g plain flour
- salt
- 3 tbsp oil
- pinch of yeast
- 2 dl milk

Filling
- 700 g cottage cheese
- 700 g sour cream
- 1 egg
- pinch of cinammon
- 2 tbsp sugar
- sugar for dusting

Prepare phyllo dough and let it rest for at least half an hour. Prepare the filling from crushed cottage cheese, part of the sour cream, egg, salt, sugar and cinnamon. Roll out the dough on a peel or handle in a way that half of the dough is equally placed outside the edges. Spread the filling on the dough on the peel. Pull the part of the dough reaching outside the edges of the filling. Then pull over the other dough parts, and spread sour cream between the layers. Spread the sour cream before and after baking. The gibanica usually has 7 to 10 layers. It is baked in a bread oven for about 25 minutes. Before serving, spread with sour cream and cover with sugar.

(Recipe was contributed by Marjana Firbas from the Domačija Firbas homestead)