5 diverse skiing adventures
Five ski centres invite you to have an unforgettable skiing experience and a ski party! The regulated tracks are suitable for beginners and children as well as for skilled ski lovers, which means you can take a skiing vacation with your family or friends.
Maribor Pohorje – the Maribor city ski slope
The 42 kilometres of ski slopes guarantees active fun for all through the day. The lovers of night skiing can enjoy 7 kilometres of illuminated tracks. The diverse offer of snow activities, such as cross-country skiing, sleighing and a ski-seat descent will make sure you have even more fun on your winter vacation.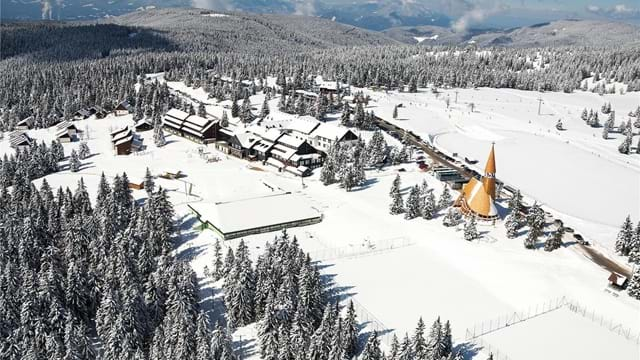 Rogla
At the most visited Slovenian ski centre, your children can get their first experiences at the Uniorček ski run. The main facilities for the children's fun is the Children Snow Park and the didactic Little Pohorje Village. And adults can enjoy some fun at the Rogla Fun Park, intended for skiers and freestyle snowboarders.
Kope
More than 7 kilometres of diverse ski runs will enthral beginners and top skiers and snowboarders alike. The 2 km night skiing and 15 km of running tracks are also available. You can literally ski right out of your room at Kope.
Trije Kralji (Three Kings)
The family ski slope at the Bistrica Pohorje is an excellent choice for anyone who wants to have active winter fun, yet appreciates the intimacy of the smaller ski slopes. The offer is especially suitable for school groups, families with smaller children and recreational skiers.
Ribniško Pohorje
The Ribniško Pohorje has a rich skiing tradition. The ski slopes (19 ha) with natural and compact snow (Ribnica na Pohorju, 715–921 m, night skiing and the Ribniška Koča hut, 1,368–1,525m, cross-country skiing runs) are suitable for all age groups.