Old Vine House
The façade of the 16th-century house, which has been subject to very few architectural changes, is a home of the more than 400-year-old vine, the oldest vine in the world. The rich Maribor wine heritage and museum exhibits are exhibited at this location.
Regional Museum Maribor
Maribor Castle, a prominent architectonic monument that, in all its opulence, stands in the heart of the old town, can be a really special place for your event. In the evening, dinner on the arcade of the castle will enchant your clients. The Knights Hall is being used for performances, smaller concerts and other smaller events for up to 80 people.
Slovene National Theatre – Kazinska Dvorana Hall
The Slovene National Theatre Maribor is situated in the old town centre, at the beautiful square of Slomškov trg with its cathedral and park. Tha Kazinska dvorana hall is used as a special venue for receptions and concerts.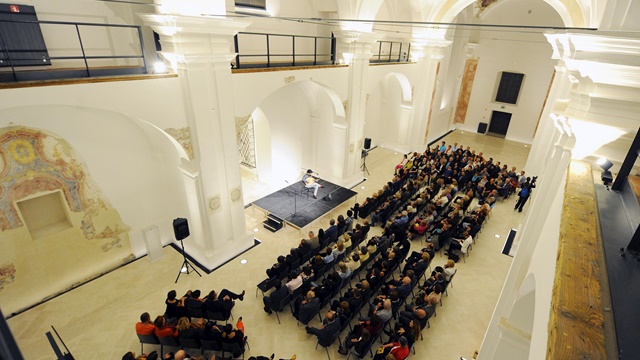 The Minorite Church and Monastery
The church represents the central building in the Minorite monastery, the only medieval monastery in the town – the oldest preserved part of the church is the nave, which dates from the 15th century. The church's present appearance dates from the 18th century when it got its Baroque facade and tower. It has a capacity of two hundred visitors for performances, concerts and formal events.
Vinag Wine Cellar
In the centre of the city, below the square of Trg svobode and further on, is one of the largest and oldest classic wine cellars in Europe – it boasts an area of 15.000 m2 and 2.1 kilometre-long underground tunnels, which lead you into a wonderful world full of the tastes of wine! It could be the perfect place for your event.
Timber Raft on Drava River
Try a traditional timber rafting on the river Drava to the old part of the city called Lent. A timber raft is used as a special venue for weddings, smaller concerts and also theatre performances.
Dveri-Pax Wine Cellar
Visit the renovated 450-year-old manor at the Jarenina estate, which offers wine for purchase, organised tastings and pamper sessions for their guests.