Chef celebrities
There are two top restaurants in the Štajerska region, which reach to the culinary peak of the world. The Vračko brothers, Grega and David, write their individual special culinary story and impress with their creativity, which is used to change the traditional dishes and ingredients into top contemporary cuisine.
David Vračko
The unusual chef of the Mak Restaurant is renowned for his menues and plates, which take the guest on a real culinary adventure. He gathered is culinary experience around the globe, from South Africa to the Danish Noma, which is famous for being the best restaurant in the world.
Today, he creates culinary trends and shares his experiences. Without the menu and the wine list the guest is left in the hands of the selection of fresh seasonal ingredients and culinary inspiration of chef David.
It is always inspiring.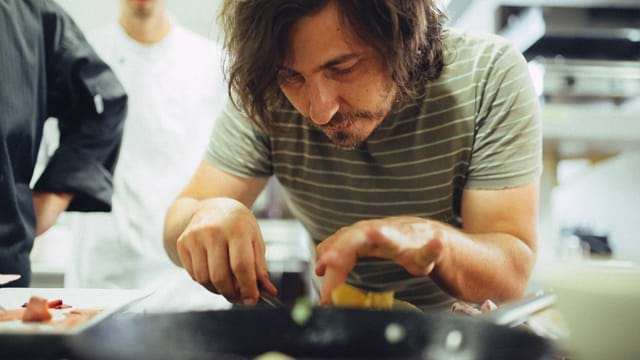 Gregor Vračko
One of the most creative and technical chefs in Slovenia has learned from the best - from Europe to America.

The manager of the Hiša Denk in Zgornja Kungota, which impresses with the wonderful ambiance, continues with the family culinary tradition. Yes, each day, from plate to a plate if upgrades with its special vision and audacity.

Chef Gregor Vračko is also a great lover of wine. He offers the most diverse selection of esteemed world wines.