The Štajerska region has good food
The typical dishes include pohorski pisker, the aromatic pohorska bunka with local cheese, the simple pohorska omleta and pohorski žganci with local milk or coffee with milk. Try these dishes at one of the many good gostilnas, restaurants with olden age ambiance, tourist farms or the local wine cellars, where the culinary and viticulture masterpieces add a pinch of the typical Štajerska region hospitality.
Pohorski pisker
The popular stew and its unique taste come from local ingredients, such as root vegetable, porcinis, pot barley porridge, meat of the Pohorje cattle with herbs etc. The pisker is accompanied well with less aromatic, medium-bodied varieties, such as Olasz rizling or Rhine Riesling, Chardonnay or Pinot gris.
Tip: We recommend the Ruška Koča or the Tisa Hotel
Pohorska omleta
Despite its simple preparation process, the pohorska omleta surprises with its excellent harmony of flavours. The sweetness of the dough is met with the lovely sourness of cranberries and the rich milky aroma of cream. The menthol liqueur reminds of the vast spruce forests of Pohorje with its colour and aroma.
Tip: Most renowned at the Tisa Hotel
Pohorska šarlota
The originally French dessert has settled in the Štajerska region and became a part of the permanent offer, which enchants with a good ration of moist dough, fruit and Bavarian cream. We recommend a glass of local semi-sweet Muscat with the charlotte.
Tip: Best in the Šiker Gostilna (one of the Top 5)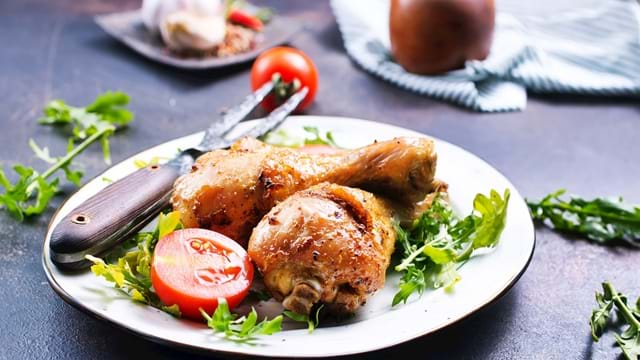 Fried chicken
Fried chicken is part of the Štajerska region tradition, and it still holds the legendary status. Did you know that you can eat it with your hands even in a restaurant? The crunchy skin, which hides the succulent meat, is so tasty, we simply refuse to burden ourselves with etiquette.
Tip: Order in the Gostilna Pri lipi (among the top 5)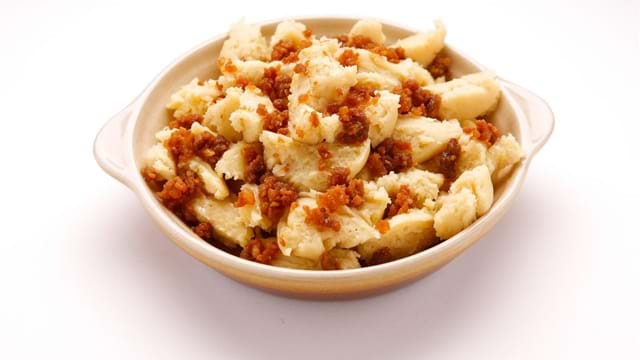 Olbič or pohorski žganci
This is a tasty dish, served as a side dish to meat or vegetable sauces or as an independent dish, if you pour some local cow's milk or coffee with milk over the žganci. The olbič is served in a simple manner – serve the cooked žganci in pottery. In the olden days the entire family ate out of the pot with a spoon!
Tip: Try it at the Ruška Koča.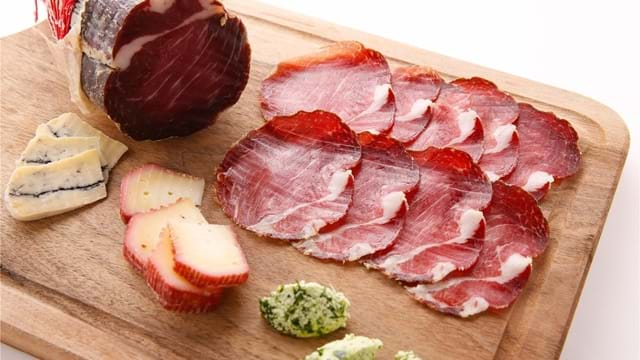 Pohorska bunka with homemade cheese
The cured meat product from pork is unique due to its maturation period in the sharp Pohorje air. It is served in thin slices with pickled mushrooms or pickles, local cheese and bread fresh from the oven. Enjoy hearty wine such as the dry Rhine Riesling with a higher alcohol content or šipon, which melts the prominent acidity in the mouth and thus sharpens the taste buds.

Tip: Taste it at the Frešer Viticulture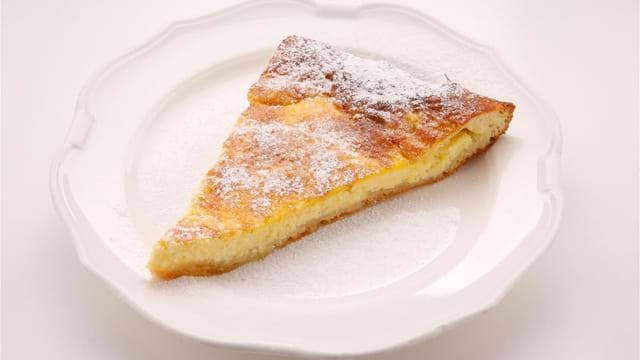 Pohorska gibanica
At Pohorje they prepare gibanica with enriched leavened dough and homemade cottage cheese. The seasonal diversity is depicted with additions, which can be incorporated in the cottage cheese, such as pears, walnuts, apples, forest fruit or tarragon.

Tip: Excellent at the Pri Kovačniku Tourist Farm