Validity:
From 1. 6. 2021 to 31. 12. 2021
Interest groups:
foodies, couples, business
Set out on a five-star wine journey.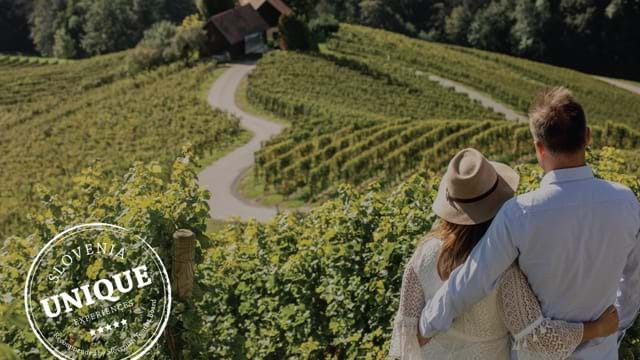 Embark on a wine pilgrimage on one of the most beautiful Slovenian wine routes. Enhance your wine culture in the company of a top sommelier and taste the fusion of Štajerska wine varieties and selected local cuisine. Learn about Štajerska winemakers and capture a magic moment of the famous heart between vineyards, one of the most beautiful vistas in Slovenia.
What does the experience include?
Meeting a guide/sommelier in front of the Old Vine House.
A ride to Svečina, welcome sparkling wine and taking photos by the famous heart-shape wine road.
Wine tasting accompanied by professional insight of a wine-maker and sommelier and tasting local delicacies.
A ride to Maribor to the Vinag Wine Cellar.
A visit to the Vinag Wine Cellar, one of the largest and oldest classical wine cellars in Europe! Presentation of wine stories, climbing into a concrete barrel and wine tasting.
A stroll round the Maribor city centre to the Old Vine House in Lent.
A visit to the Old Vine House and a possibility to take photos in the canopy of the oldest vine in the world. Expert tasting of the samples selected among 190 wines of the Podravje region. Making a souvenir from a cork.

Price list
for 2 persons: EUR 77/person
for groups up to 6: EUR 70/person
If you want to book the experience on some other dates, please write to us at Tourist Information Centre Maribor.